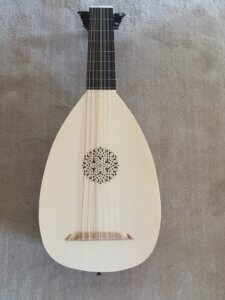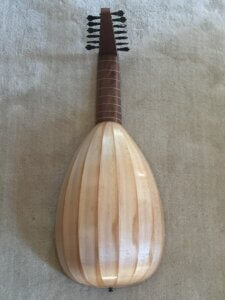 I no longer build student lutes. After a lot of thought I realized that I was deliberately building an inferior lute. I wanted to do better. What resulted, what I am now offering is what I call an "Essential" lute. The lute pictured is representative of the Essential lute. It is a slightly stripped-down version of a model I have used for some years after Magno Dieffoprucher that has been quite successful. What remains essential in this lute is a AAA Swiss Alpine Spruce top that is a great lute soundboard. 9 matched ribs of Maple or Ash. A solid neck of European Beech or Walnut and a fingerboard of Indian Rosewood or European Beech. Hand turned pegs. It features the same string setup and action as the concert models. Tuned in G, it can be built with a string length of 59cm to 63cm.
What is stripped down from the concert model? I still use several full sized historical rose patterns but they are laser cut and I do the finish carvings. Though I really enjoy carving roses in their entirety, this saves a great deal of time and thus money. The Essential lute does not have points on the end of the fingerboard nor does it have half binding (the thin hardwood strip around the rim of the top). The Essential lute does not have a veneered neck or pegbox. The ribs, though matched and attractive, are not highly figured.
All of the features removed from the concert model to make the Essential lute as affordable as I can make it can be added back singly as options for an up charge.
This lute has been well received. It presents a real alternative for a great sounding, great playing lute at a significantly lower cost than the Concert model. It is far superior to student lutes; it is also an affordable second or third lute for a specific repertoire.
Feel free to contact me about the Essential lute and options available.